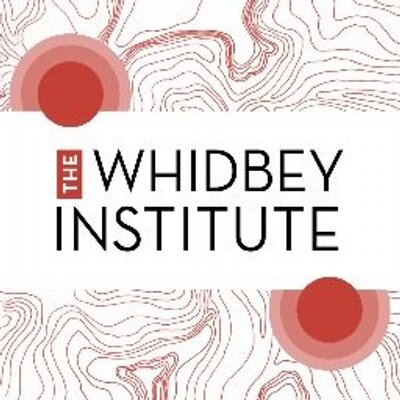 At the kind invitation of Alexandra Morosco and Scott Hackney of Marenakos Rock Centre in Seattle 14 stone craftsmen and women gathered at the
Whidbey Institute on Whidbey Island in Puget Sound for a special North American Stone Summit.
Leaders (and friends) from Scotland, Ireland, Canada and the United States were chosen to attend a gathering of founding members and key people in various organizations that promote the traditional craft of building or carving with stone.
I will be posting a report on how the discussions and meetings went during this positive weekend encounter, but for now I'd like to show you the stone project we all collaborated on designing and building, as a kind of thank you to the people who hosted us at this wonderful event.
The challenge was to change this unattractive side of the new stone patio into something m
ore pleasing.
The plan was to use the left over stone that Marenakos had donated for the patio to hide the block wall and poured concrete terrace wall
Well into the project, we came up with the idea of working a bench into the design
The next day (yesterday) we added a stone 'crevice garden'.
Back in Jan of 2012 I did a blog post about crevice gardens . You can read about it here.
http://thinking-stoneman.blogspot.com/2012/01/crevice-gardens.html