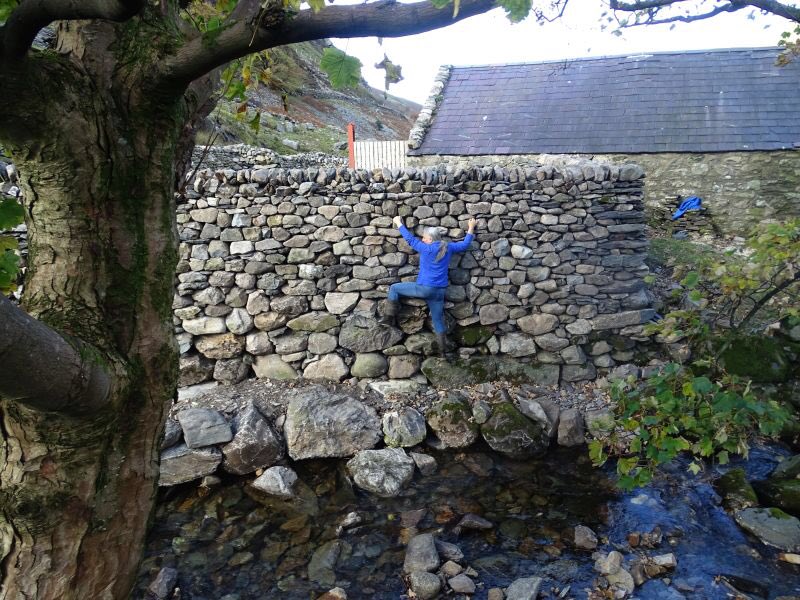 Sean Adcock did this major repair to an agricultural wall in Blane y Nant,Wales, last year. It's a sheep pen, partly retaining (about four feet)and the rest just under six feet tall of free standing wall, (
on the uphill side). Where Brenda is climbing it is nearer eleven or twelve feet.
Sean says he dug
out below stream level and wrestled into the base a row of massive boulders each weighing a ton or more then immediately behind these a row of slightly smaller stones were set as the footing for the wall. The first two courses were all stones that were too big to be moved by hand ( track excavator was used) This more or less brought the wall to ground level.
The wall was a little under 4 feet wide at ground level and from this point was built almost entirely from the uphill side!
Battered 1:6 it is around
24 inches wide below cope. The cope is formed by an irregular cover with a rubble cope on top.
There are no throughs .
"The stone was plenty big enough anyway," says Sean, " ie at through stone height it was around 3 feet wide and the building stones still met/overlapped in the centre of the wall"
Sean remembers it was horrible stone with "all sorts of silly shapes"
This Property used to be Sean's main site with over 70.000 square feet of wall face surface rebuilt here over fifteen years, now just occasional repairs and projects.